Le palmarès des meilleures campagnes marketing et d'influence est bel et bien français ! Cette année les annonceurs qui recherchaient un but bien précis dans leur communication ont su associer à leur agence, un, les bons canaux de communication et, deux, une excellente prise de parole dans leur campagne marketing et/ou d'influence. Si certaines ont eu un écho dans les médias, auprès du gouvernement, ou bien ont accompagné l'info durant quelques jours, sachez que c'était le but recherché pour certains d'entre eux : interpeller l'opinion publique, les journalistes, et les donneurs d'ordres de premier rang, pour faire changer les choses, le regard sur certaines idéologies, ouvrir le débat public !
Donc voici le palmarès des campagnes marketing et d'influences, accompagné de leurs résultats. Vous découvrirez comment l'activation des bons leviers marketing permet de toucher la cible visée et d'obtenir rapidement le résultat attendu. C'est toute la force du marketing vs la publicité !
1. Bordeaux 2050, une campagne d'influence pour sensibiliser au vrai goût du réchauffement climatique.
Que le réchauffement climatique soit une réalité, il s'en trouve encore beaucoup à ne pas y croire vraiment. POURTANT ! Jouer avec le réchauffement climatique comporte des risques. Une montée en température de 2 à 4 degrés diminuera de façon drastique l'arôme du vin. Si on y ajoute des étés caniculaires, la sécheresse et des gelées dévastatrices qui vont abîmer le fruit, nos cépages bordelais tant appréciés du monde entier risquent d'avoir un tanin un peu bouchonné.
Un campagne de marketing d'influence maîtrisée qui a su toucher sa cible et obtenir des résultats.
À l'initiative de l'Association française des journalistes, eh oui on aurait pu s'attendre à une coopérative bordelaise, le prestigieux Cheval Blanc, Angelus ou Pétrus brandissant l'étendard. Eh bien non, ce sont des journalistes qui ont jugé utile d'alerter l'opinion mondiale.

Avec une augmentation de 27 % des mentions sur les médias sociaux, les dons ont augmenté de 14 %, alors que sur ce point ce n'était pas le but recherché, mais plutôt d'alerter l'opinion des décideurs de ce monde. La secrétaire exécutive des Nations Unies sur les changements climatiques, Patricia Espinosa, a salué l'initiative.

Bordeaux 2050 a secoué les milieux vinicoles français avant de se propager plus largement à la communauté scientifique et ensuite aux nouvelles dans le monde entier.

Il a généré plus de 500 millions d'impressions à travers des articles du Huffington Post, du Figaro, de L'Express, de Franceinfo, de Science and Future, déclenchant 100 000 mentions sur les réseaux sociaux.


Pour la première fois dans l'histoire, les climato-sceptiques ont été contraints de goûter à l'effet négatif du changement climatique, qu'ils ignoraient auparavant.
2. Little big change, les couches qui ont des choses à dire
Des couches 100 % saines pour nos bébés ! Ah bon, elles sont pas saines ? Mais depuis quand on me ment ? ILS VONT M'ENTENDRE !
Ne tentons pas de faire un procès perdu d'avance ! Mais votre opinion compte et, dans ce contexte particulier, l'opinion de vos enfants ! Car OUI, des couches pour bébé 100 % saines existent bel et bien ! Disponibles sur abonnement et à prix très doux sur littlebigchange.com.
Pour un dispositif 100 % online, lancer un produit sur un marchés déjà tenu par des mastodontes est loin d'être facile. Si la marque a des arguments forts et vrais : garantie 0% chlore, parfum, et produits toxiques, l'agence et l'annonceur ont décidé d'en faire un campagne marketing d'influence pour alerter et laisser le consommateur libre de choisir ce qui est le mieux pour ses enfants, en connaissance de cause.
Little Big Change a donc deux mots à vous, à nous dire. En fait, plus que deux mots. Mais bien de pousser un coup de gueule ! Avec ses toutes premières couches, saines et disponibles par abonnement : désormais, tout le monde au sec et sans aucun risque.
Exiger avec force une vraie alternative saine, c'est l'enjeu de cette campagne marketing. La marque livre des couches avec des mots permettant de créer des phrases au fur et à mesure de la journée, dès que vous changez le bébé. Garanties 100 % Instagram friendly !
3. Cancer@Work. Changer le regard sur l'exclusion professionnelle.
Combattre le cancer et changer le regard sur l'exclusion professionnelle, c'est l'objectif de cette campagne d'influence menée par Cancer@Work.

Le diagnostic social est sans appel : 20 % des personnes âgées de 18 à 54 ans et travaillant au moment du diagnostic, ne travaillent plus cinq ans après. Les raisons sont multiples, mais c'est bien seulement 54 % des malades qui ont gardé le même emploi, ou l'ont recouvré sur la même période. Il est donc clair que le cancer est un facteur d'exclusion professionnelle.

Cancer@Work avec « fighting cancer » entend bien faire changer le regard sur la maladie au travail, point d'orgue du bien-être et d'un point d'équilibre de rétablissement du salarié. Alors DÉCRÉTER, une nouvelle compétence que vous pouvez fièrement afficher sur votre profil Linkedin, donne le LA à une nouvelle vision du salarié malade. Un campagne marketing socialement responsable et constructive.

Toucher leaders politiques et journalistes, un très bon résultat  pour cette campagne de marketing d'influence.

Rapidement, de nombreuses personnes affectées par le cancer ont ajouté la compétence « fighting cancer » à leur profil. La presse et les leaders d'opinion ont très bien accueilli la campagne, soucieux de remettre en question les préjugés liés à la maladie. Même la ministre des Solidarités et de la Santé, Agnès Buzyn a participé à la campagne et a soutenu le projet.

"Fighting Cancer" a obtenu 40 millions d'impressions et 8 millions de vues organiques sur les vidéos Facebook et LinkedIn.
4. Un campagne marketing pour pénaliser les clients de la prostitution, l'objectif de Le mouvement du nid
Girls Of Paradise, l'envers du décor
Sensibiliser l'opinion face aux violence subies par les femmes prostituées n'est pas chose aisée. Entre le combat pour les femmes battues symbolisé par le procès de Jacqueline Sauvage, le droit à la PMA (procréation médicalement assistée), la parité au travail qui doit se retrouver aussi dans les salaires, le XXIe siècle est le combat des femmes.
Se revendiquant comme abolitionniste féministe, Le mouvement du nid considère la prostitution comme une activité incompatible avec le respect de la dignité humaine Il considère les personnes prostituées comme victimes d'un système qui les exploite. L'association refuse toute forme de pénalisation de celle-ci.
C'est pourquoi, dans cette campagne marketing, elle a pris la parti de piéger la clientèle masculine qui recourt régulièrement à la prostitution. Le faux site d'escorts girls, "Girl of Paradise" commence chacun des ces échanges en apprenant à la clientèles que la fille convoitée a succombé aux coups et blessures infligés par ses clients ou proxénètes.
Le nom et les raisons de la mort de chacune des filles sont biens réels.
Le dispositif a permis à l'association de renforcer son lobbying en faveur de la pénalisation des clients de la prostitution. Le débat à été porté à la télévision ainsi qu'au gouvernement, qui à voté la pénalisation des consommateurs de prostitution.
5. « Ratraplage » avec OUIBUS.com
Quand un annonceur te dit pas "passe ton bac d'abord" mais surfe sur ta flemme de l'année, ça donne une campagne d'activation vraiment drôle. A l'heure où les réseaux sociaux vont tellement vite, OUIBUS a décidé de réagir durant la semaine du baccalauréat et de récompenser ceux qui se retrouvent en rattrapage : direction la plage pour réviser.
Lancé sur Twitter et Facebook, la campagne « Ratraplage » permettait de gagner des bons de réduction en fonction du nombre de points à rattraper.
C'est malin, c'est fun, et la marque crée encore plus de proximité en rencontrant sa cible sur les canaux essentiels à une bonne campagne marketing, où vous croiserez sans aucun doute nos adolescents.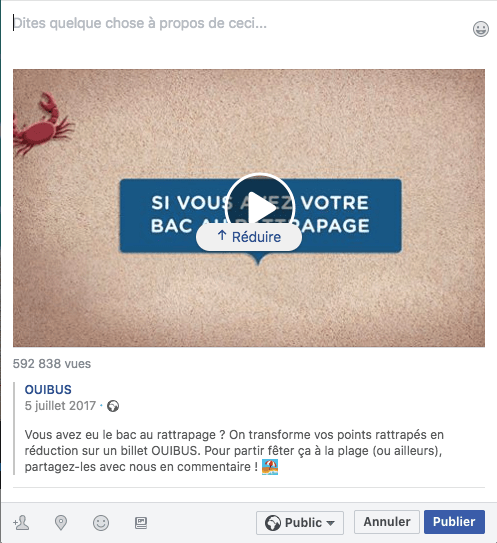 6. Transavia crée Bye Bye en partenariat avec Ebay
Vous avez envie d'évasion, de soleil, de plage, d'un petit week-end à Londres, mais vous êtes fauché ? NO PROBLEM ! Vendez les objets enfouis au fond du jardin, d'un tiroir, du grenier… sur Ebay. Transavia a créé pour vous le premier convertisseur d'objets usagés en billets d'avion.
La nouvelle s'est répandue comme la foudre avec 330 millions d'impressions, + 54 % de recherche en plus pour Transavia sur Google et 45 % de réservatiosn en plus.
7. Du pareil au même lance sa campagne #KidsRevenge
Devenir parent n'est pas de tout repos et c'est for ALL the LIFE. Bah oui ! Malgré toute l'attention, tout l'amour que vous portez à vos bambins, une complicité revancharde vient d'être instaurée par  la marque Du pareil au même.
Cette campagne marketing a tous les ingrédients de la réussite. Le concept est universel, donc adaptable à plusieurs pays. Social friendly, il donne lieu a des contenus uniques créés par les internautes eux-mêmes. Il renforce la connivence avec la marque et la complicité parents – enfants. La recette d'un succès assuré.
En effet, les enfants sont parfois victimes de la vie suractive de leurs parents auxquels on ne pardonne pas la moindre faute de goût ! School réputation oblige ! OK Daddy !
Partant de ce constat, la marque à voulu créer un moment rare de gentillesse, de proximité, en donnant aux enfants la possibilité de se venger et d'habiller leurs parents comme ils l'entendent.
La campagne a été lancée sur les réseaux sociaux et à l'international.
Cet article vous a intéressé ? Téléchargez notre livre blanc Inbound Marketing : faire de sa marque un média et transformer son audience en clients. Vous pouvez également contacter notre agence Inbound Marketing.
Enjoy Marketing !